Porsche 944 Spare Parts and Cross Reference
Please note that the list shares the spare parts for all 944 models: 944 / S / S2 / Turbo / Turbo Cabriolet.
Big thanks to fellow enthusiast and 944 wizard Jusii for kicking off the original list!
Link to the list (opens in a new window):
https://docs.google.com/spreadsheets/944_cross_reference
---
Maintenance Intervals
MY1985/2 – MY1991 944 series maintenance intervals.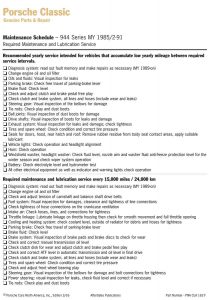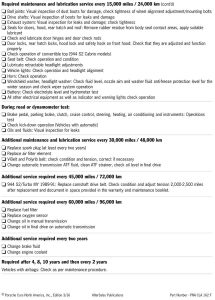 ---
Technical Bulletins
TB9051 – Retrofitting R12 AC to R134.
---
Color Codes MY1984 – MY1991
Porsche color codes for MY1984 – MY1991.
| Color Code - Color Name | German Name | Paint Effect* | 84 | 85 | 86 | 87 | 88 | 89 | 90 | 91 |
| --- | --- | --- | --- | --- | --- | --- | --- | --- | --- | --- |
| L90E - Alpine White | Alpinweiß | U1 | X | X | X | X | X | X | X | X |
| LM3A - Guards Red | Indischrot | U1 | X | X | X | X | X | X | X | X |
| LY5D - Azurite Blue | Azuritblau | U1 | | | | X | X | X | X | X |
| LY5U - Glacier Metallic | Gletscher-met. | M2 | | | | | | X | X | X |
| LY7T - Crystal Silver Metallic | Kristallsilber-met. | M2 | | | | | | | X | X |
| LY7P - Titanium Metallic | Titan-met. | M2 | | | | | | | X | X |
| LY9Z - Panthero Black Metallic | Panthero-met. | M2 | | | | | | | X | X |
| LZ3T - Zyclam Red, Pearl Effect | Zyclamrot-perlcolor | P2 | | | | | | | X | X |
| LM3B - Star Ruby | Sternrubin | U1 | | | | | | | X | X |
| LM5A - Maritime Blue | Maratimblau | U1 | | | | | | | | X |
| LM5N - Cobalt Blue Metallic | Cobaltblau-met. | M2 | | | | | | | | X |
| LY9B - Brilliant Black | Brillantschwarz | U2 | | | | | | | | X |
| 700 - Black | Schwarz | U1 | | | | | | | | X |
| 908 - Grand Prix White | Grandprixweiß | U1 | | | | | | | | X |
| 80K - Guards Red | Indischrot | U1 | | | | | | | | X |
| 82N - Star Ruby | Sternrubin | U1 | | | | | | | | X |
| 38B - Maritime Blue | Maritimblau | U1 | | | | | | | | X |
| 38A - Amethyst, Pearl Effect | Amethyst-perlcolor | P2 | | | | | | | | X |
| 92M - Amethyst, Pearl Effect | Amethyst-perlcolor | WP2 | | | | | | | | X |
| 738 - Black, Pearl Effect | Schwarz-perlcolor | P2 | | | | | | | | X |
| 92E - Polar Silver Metallic | Polarsilber-met. | M2 | | | | | | | | X |
| 83K - Polar Silver | Polarsilber-met. | WM2 | | | | | | | | X |
| 22D - Slate Grey | Schiefer-met. | M2 | | | | | | | | X |
| 23F - Slate Grey | Schiefer-met. | WM2 | | | | | | | | X |
| 37W - Night Blue, Pearl Effect | Nachtblau-perlcolor | P2 | | | | | | | | X |
| 39C - Night Blue, Pearl Effect | Nachtblau-perlcolor | WM2 | | | | | | | | X |
| 37U - Cobalt Blue Metallic | Cobaltblau-met. | M2 | | | | | | | | X |
* Paint effect details:
U = Solid (Uni)
M = Metallic (Met)
P = Pearl Effect (Perlcolor)
W = Waterbased Lacquer (Wasserbasis-Lack)
1 = Single-Layer Coat (Einschichtverfahren)
2 = Two-Layer Coat (Zweischichtverfahren)
Example pictures of the colors on 944 Turbo Cabriolet: